Corporate news
Veneta Cucine presents ICONICA
3/21/23

Iconica was developed as a natural extension to the Lounge system, which since the outset has been noted for its ample storage capacity and design standards that seek to render the kitchen an even more welcoming and functional space.
The model proposes a new aesthetic vision and a break from classic arrangements through the absence of an upper profile on the base units and the use of a system of alignments that goes beyond the conventional way we think about design; no longer only precise, clean-cut horizontal alignment but lines that are fragmented and create a more articulated visual interplay.
A new visualisation, made possible by the use of opening profiles only at the mid-level, providing a seamless view between the top and drawer fronts which, arranged in a staggered pattern or composed with the use of diversified materials and finishes, create new volumes and generate limitless aesthetic variations, making Iconica a model that is visually different from its predecessors.
Woods, gloss and matte lacquers and liquid metal finishes, Fenix® and decorative laminates and soft matte lacquers, gloss and matte lacquered glass, wood canneté and matte glass canneté are mixed and matched even within the same module to offer a broad option of choices and to cater for the desire to create unusual atmospheres.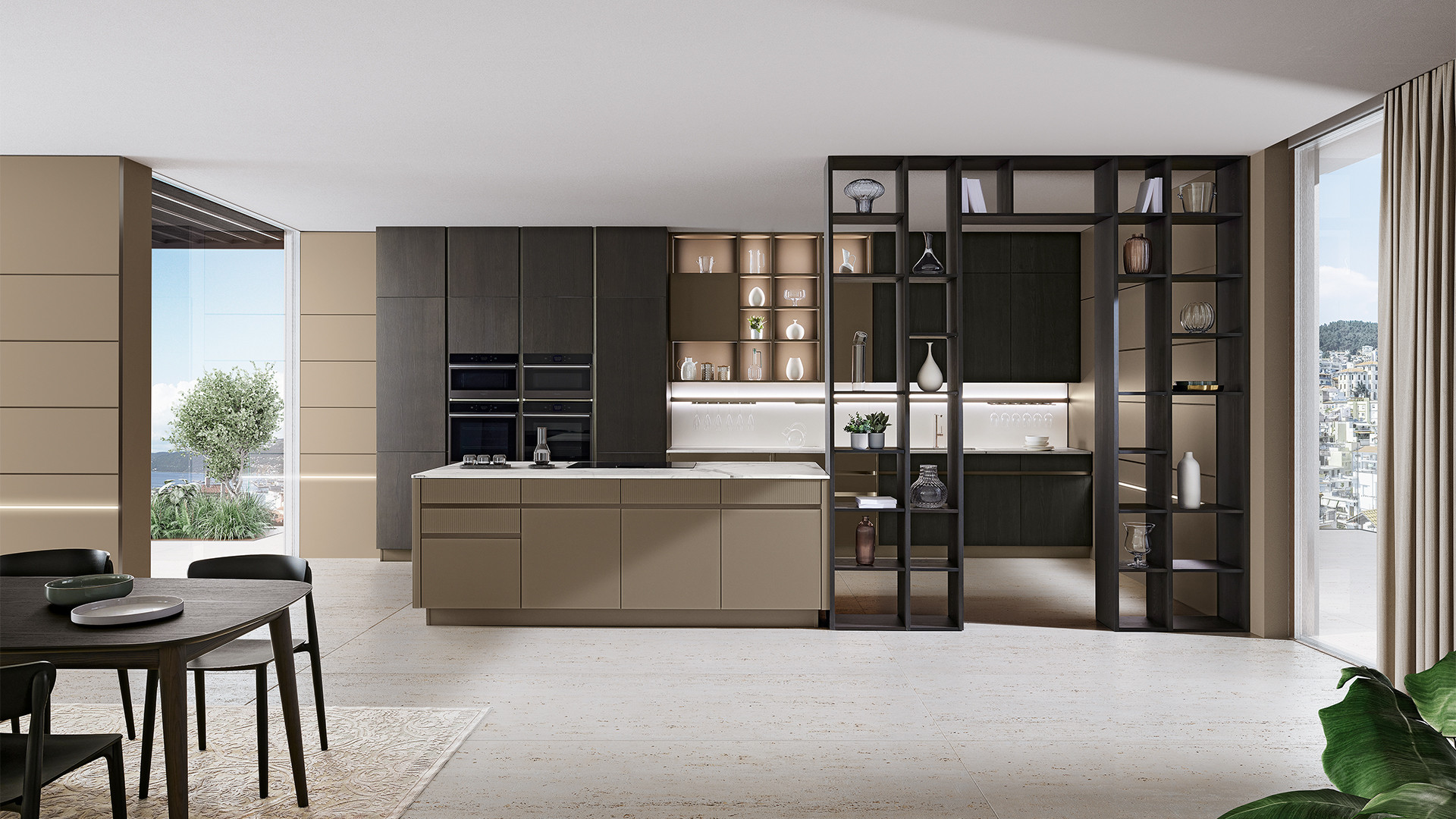 In the photo: Island in Vetro Cappuccino Liscio and Cannettato, Base Units, Tall Units and Wall Units in Frassino Scuro
" An island arrangement where the Living and the Groove systems connect the cooking and washing areas. The kitchen forms the centre around which the space is developed. Cabinets and wall units appropriate materials and stylistic motifs from the living room area. Wall-hung elements alternate door closures and open shelving elements creating an interplay of solid and empty spaces. "

Groove is an equipped panel that embellishes, utilises and decorates unused space within the home environment. The system's flexibility makes it possible to design and plan any vertical surface, combining one or more elements that can be customised in terms of size and finish and define a multitude of geometric designs. The system's horizontal pattern is created by accessorisable grooves that run the entire length of the panel.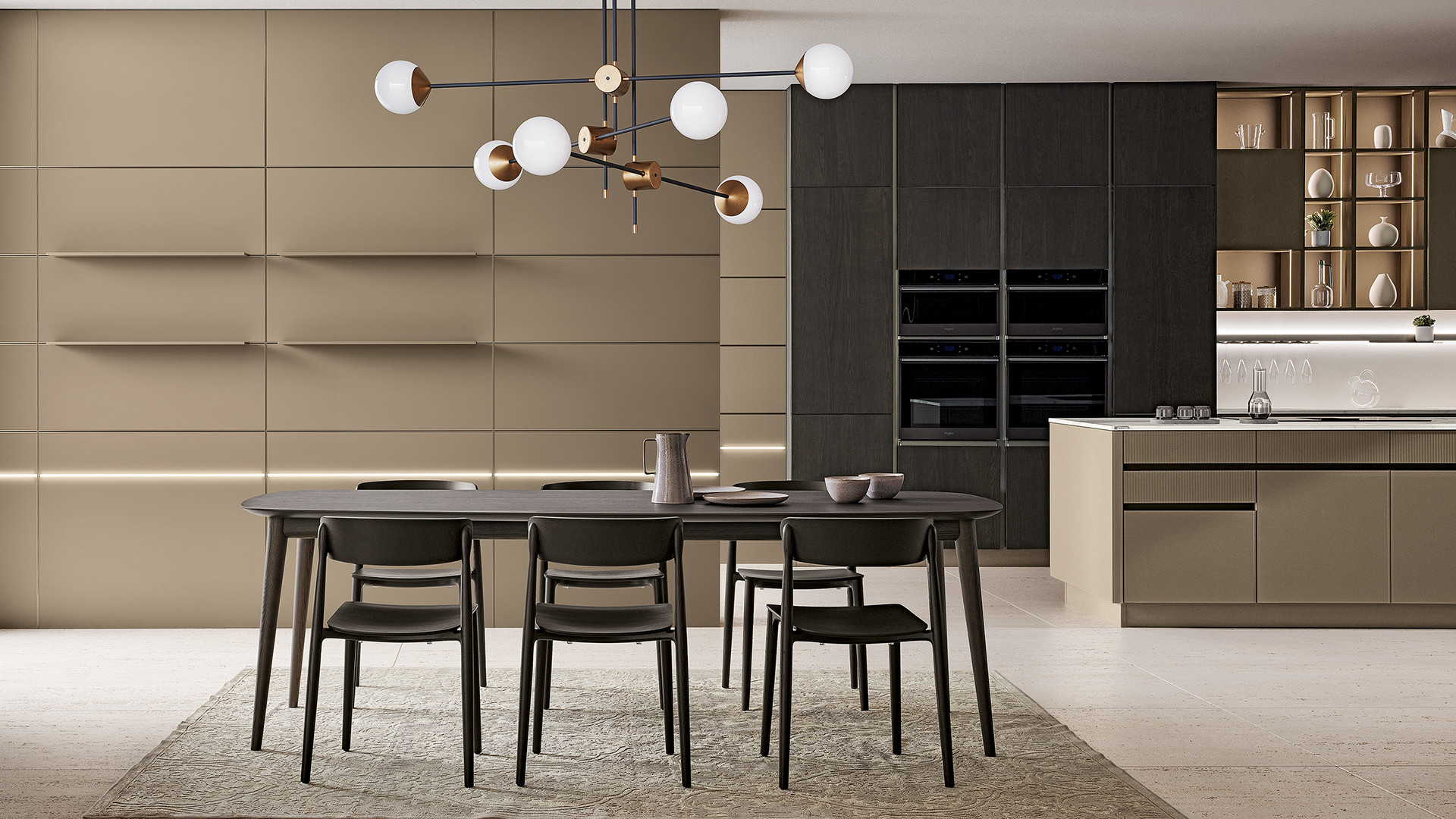 Groove composed of panels in the Veneta Cucine materials and finishes features a rear and perimeter frame in Bronzo aluminium finish; the horizontal profiles, in the same finish, are available with or without LED lighting and can be accessorised with interchangeable elements such as aluminium, lacquered or veneered shelves, hooks, kitchen roll dispensers or wine glass racks. They can also be matched with the Tape hood.
Some details
The design that welcomes and supports
an augmented space for you and your home
In recent years, the way we experience the home environment, and the kitchen in particular, has changed greatly. Today we are accustomed to managing space in a more multi-faceted, flexible way, with needs that can change depending on individuals and the time of day. At Veneta Cucine we have carefully observed these changes; we have studied and analysed them and arrived at a design solution that accommodates and supports them: kitchens designed and built for the people who use them – every day, several times a day – live in them and love them.
You may also be interested in